Doggy Daycare in Fairfield
the best doggy day care near you
At K9 Resorts Luxury Pet Hotel Fairfield, we treat our canine guests deserve like royalty. That is why we designed our dog daycare services to optimize both leisure and play. Our prestigious dog boarding suites and rooms offer an excellent place for your pet to relax. When it's time for activities, our outdoor courtyard is ideal for socializing and play. Dogs especially love our K9 Grass. It consists of turf that we disinfect daily with pet friendly, hospital-grade chemicals. and an anti-microbial product called AlphaSan® that fights odors and bacteria.
Contact our team of dog lovers to schedule a free tour of our dog daycare facility today!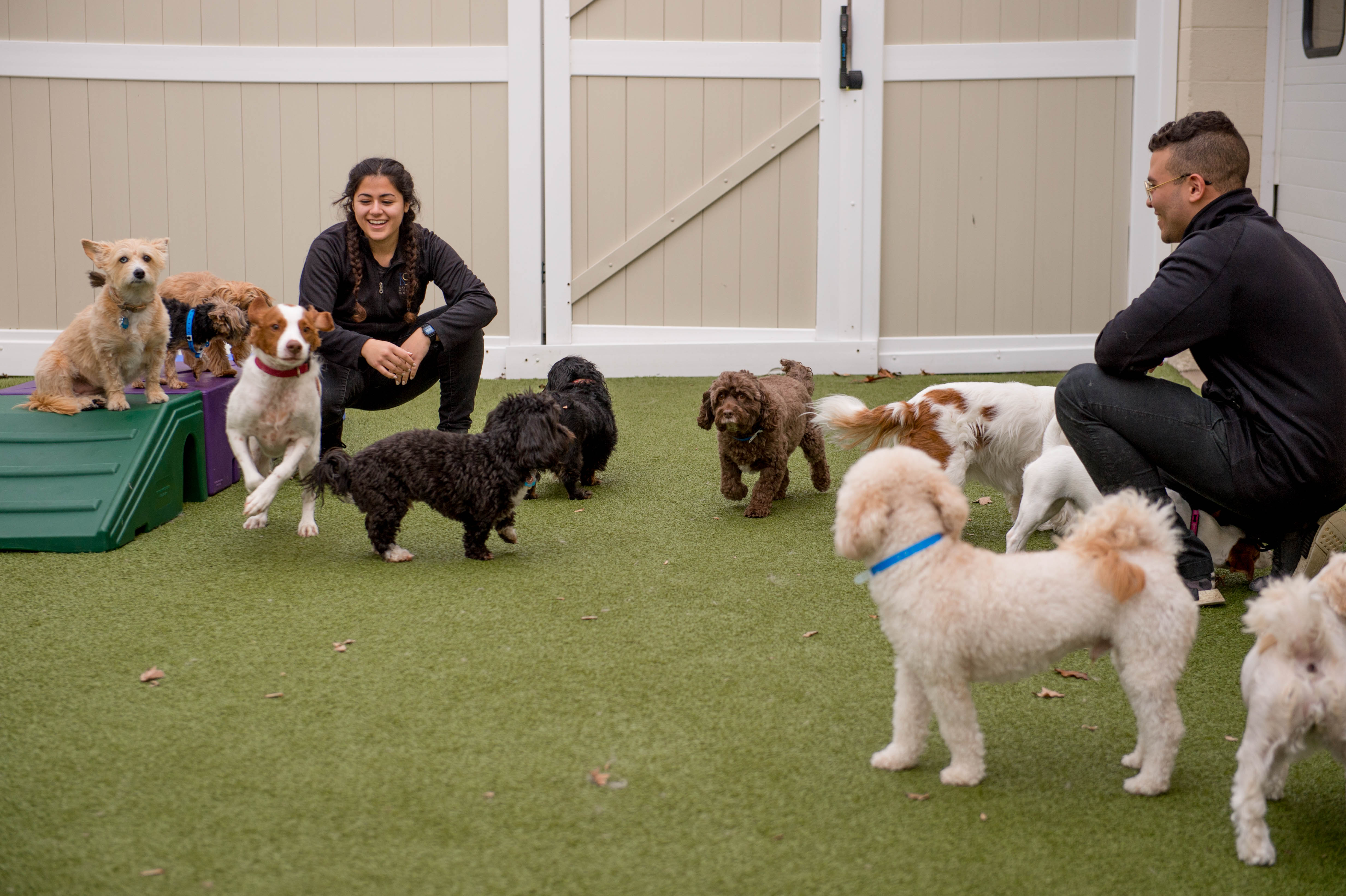 Sanitation is one of our many priorities. To join dog daycare group activities, each dog must pass a trusted evaluation process.
Some fundamental rules for participating in group play include:
If older than 10 months, dogs must be either spayed or neutered
Pet owners must provide proof that their dog is up to date with all mandatory vaccinations
Dogs must pass a personality and temperament screening. It tests social skills, agreeability, and other critical behavioral attributes
If your dog meets all these criteria, they are free to interact with other pets in the dog daycare program. And those staying in our luxury dog boarding suites. You can rest assured we will have our trained and certified team watching your pet to ensure safety.
The Benefits of Keeping Your Dog Active While You're Away
Like people, dogs experience great happiness when they can interact with other animals. We provide doggie toys, fun activities, and state-of-the-art artificial turf. Our business model centers around improving the wellbeing of our canine guests.
With luxurious cage-free environments and supervised exercise, your pet will:
Learn new social and behavioral skills
Lose weight in a healthy manner
Be too engaged to suffer from boredom or separation anxiety
Enjoy restorative nap periods between calorie-burning bouts of fun
With so many upsides and benefits, your dog will leave each evening feeling well-adjusted and relaxed – a perfect temperament for you to enjoy their company. Learn more about our dog daycare programs, luxury pet boarding suites, and additional amenity options!
Schedule a free tour today by calling (973) 756-3815 or contacting us online.