Luxury Dog Boarding in Fairfield
World-Class dog boarding near you
At K9 Resorts Luxury Pet Hotel Fairfield, our cozy luxury dog boarding suites are unique in the dog care industry. Designed to provide a relaxing experience for every pet, regardless of their personality. We designed our dog daycare and dog boarding facility to help your pets have fun, socialize, and relax. Spacious and sound-resistant, each eight-by-eight dog boarding suite maximizes relaxation.
Schedule a free tour of our luxury pet hotel today!
The best-in-class amenities in our luxury dog boarding suites include: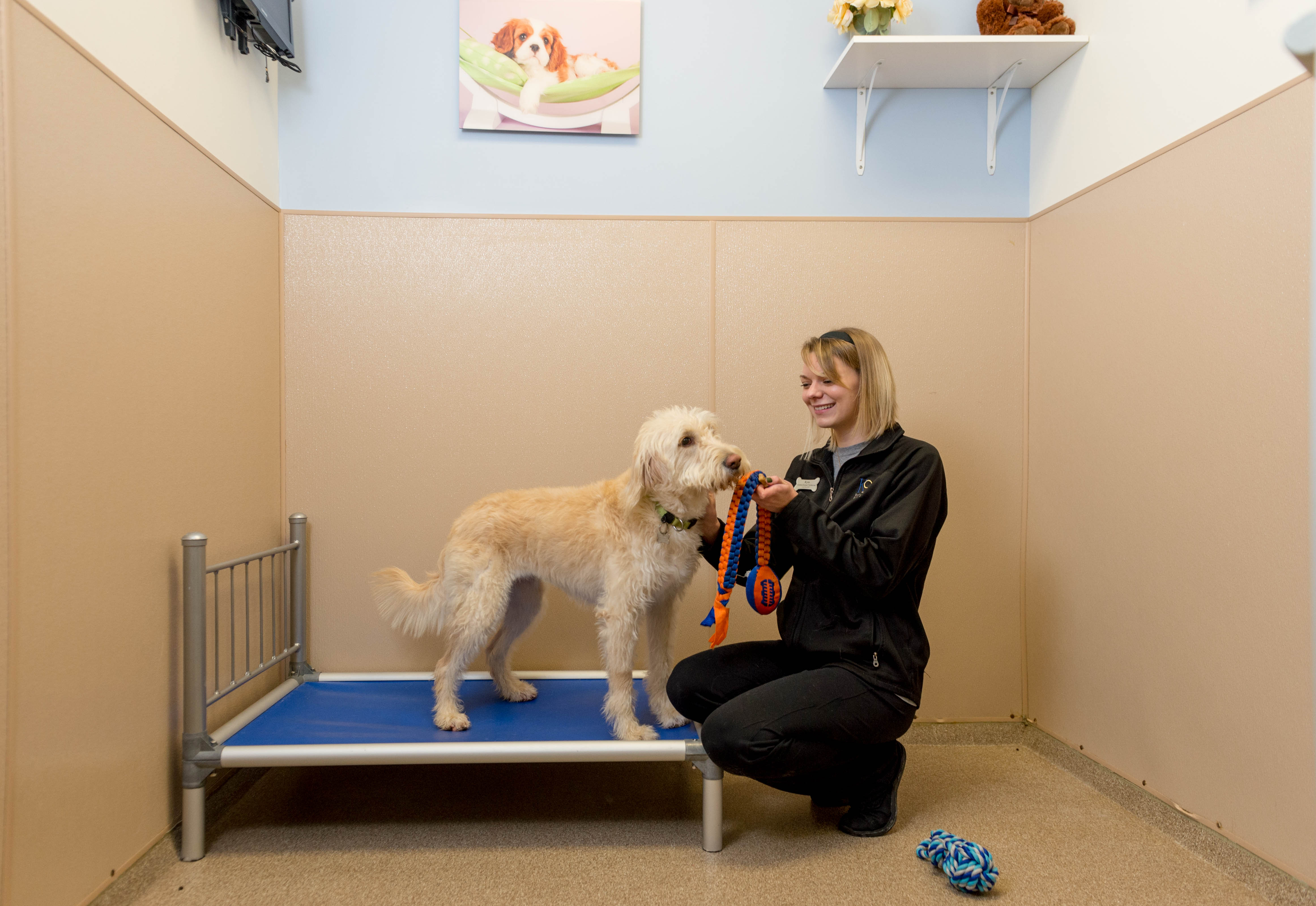 ​
Ultra-soft and cuddly Kuranda dog bedding
A TV tuned to Animal Planet or DogTV for dogs to binge-watch their favorite shows
Healthy and natural Blue Buffalo meals that are easy on stomachs
K9 Resorts Fairfield aspires to be a Four Seasons-caliber doggie resort. That is why our all-inclusive luxury dog boarding packages emphasize your dog's happiness. With confidence in the quality of our facilities and staff, we're always excited to give tours. After all, our motto is "Come See, We're Better!" for a reason.
Do not be shy! Book an appointment to check out our luxurious doggie hotel today!
Pet Safety Is Our Priority
Between periods of rest in their luxury dog boarding suite, your pet can take part in group play. Or private outdoor activity. Whatever option you choose, we guarantee playtime for your pup.
We sanitize our world-class facilities daily. Cleaned with state-of-the-art tools and hospital-grade disinfectants. Our doggie-friendly cleaning supplies include:
Microban antimicrobial sprays and soaps
PetAirapy UV air purification and ventilation systems
Artificial turf featuring K9 Grass with AlphaSan® microbial agents
Throughout the day, we let dogs in boarding accommodations and those in our dog daycare program play and run around within our fenced-in courtyard. To ensure every dog's safety, we require each animal participating in social activities to be:
Spayed and neutered
Properly caught up on all essential shots
Screened by our professional dog care specialists to ensure they are suitable for group play
Taking precautions is essential when it comes to ensuring every dog's well-being. Luckily, with strict protocols and certified staff, you can be sure your pet will receive excellent care.
The doggie boarding accommodations we provide at K9 Resorts Luxury Pet Hotel Fairfield have won many prestigious rewards. Call (973) 756-3815 or contact us online to see what the hype is all about!