Dog Daycare
supervised dog daycare with outdoor play
Dog Daycare is a group play environment, designed for dogs that are social. Dog Daycare provides an outlet to expend excess energy, socialize, exercise, and remain active. Dogs are social animals that need exercise and stimulation and doggie daycare is the best way to provide both! In Dog Daycare, your dog will be able to participate in daily exercise through group activities. Participants play in a cage free environment while enjoying the freedom to stretch their legs.
Dog Daycare Is safe and supervised
In this program, dogs socialize and unwind in a controlled and fully supervised, safe setting. While it is just great fun, this exercise helps curb behavior problems, separation anxiety, boredom issues, and also assists with weight loss regimens.
Benefits of Dog Daycare
Multiple opportunities throughout the day to relieve themselves outside
Great exercise and socialization with other pets and humans
Extremely clean, safe, and supervised environment
An expertly supervised group with other carefully screened dogs
Trained staff, chosen for their love of pets and their dedication to providing the best care anywhere
Just enough of the quiet time even the most energetic dog needs
An engaging environment designed by experts
Help for dogs suffering from separation anxiety or depression
Protection against your home being torn apart by your bored or lonesome pet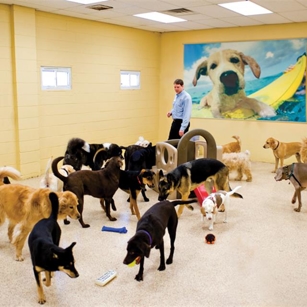 K9 Resorts ensures all dogs participating in Doggie Daycare are healthy and current with all shots. All activities are monitored with safety in mind by our trained and certified staff supervisors. All participants must first pass a strict temperament screening process to ensure compatibility with the group. Rest periods are also built into the schedule in the form of mid-day naps.
While playing in Doggie Daycare, participants have access to an outdoor, fenced in, grass courtyard, where they can relieve themselves, stretch their legs, and play. This outdoor area features K9 Grass. This cutting edge turf is designed exclusively for dogs and features "Alphasan" anti-microbial agents that help fight odor and bacteria buildup creating a safer and cleaner environment for all the dogs. This area is routinely maintained with the finest hospital grade disinfectants to ensure it remains clean and sanitary.
dog Daycare with peace of mind
Your dog's days deserve to be filled with energy-burning fun and healthy relaxation among friends. Drop them off in the morning knowing you can come back to a relaxed, happy pet. There's a reason why our motto is "5-Star Experience, Love & Fun Included ". Come see for yourself today by scheduling a tour.
Dogs more than 10 months old must be spayed or neutered. All dogs must also pass our doggie dog daycare evaluation in order to participate. This is for the health and safety of all our guests. Find a dog daycare near you today by clicking below
K9 Resorts Luxury Pet Hotel is the name many pet professionals and pet owners trust. Schedule a tour today by calling (908) 889-7387. Schedule a tour with your nearest K9 Resorts today.