Why Choose Our Luxury Dog Hotel?
Proudly Providing Award-Winning Pet Care Services
K9 Resorts are internationally recognized, multi award-winning pet care facilities. We are honored to have been rated the top pet care franchise in the nation by the International Boarding and Pet Care Services Association and to have been consistently rated #1 by multiple major publications.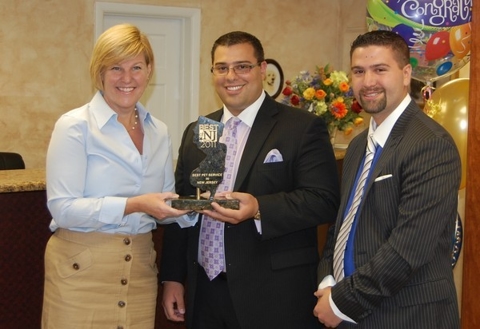 Many veterinarians, groomers and other local pet professionals find that our state-of-the-art pet care facility meets their discriminating needs. We are very proud of the fact that not only do they refer K9 Resorts to their clients, many board their own pets here at K9 Resorts. This is considered the absolute highest compliment a pet care facility can receive, and is something we are enormously proud of.
cage free and veterinarian recommended dog boarding
Cage-Free boarding options
Veterinarian Recommended
Rated #1 pet care franchise in the nation by IBPSA.
Rated # 1 in New Jersey by New Jersey Monthly Magazine
Voted Best of the Best Pet Service in Central Jersey by Courier News
Rated #1 by Monmouth Health & Life Magazine
Rated # 1 by Suburban Essex
Trained, certified, and loving staff
Designer suites by Snyder, considered by many to be the best in the world
Premium Kuranda dog beds
Trained and certified staff
Cutting-edge flooring systems with Microban built in
State-of-the-art PetAirapy UV air purification system that includes a specially designed ventilation system
Outdoor "pet-safe" courtyard featuring revolutionary artificial turf, K9 Grass with "Alphasan" antimicrobial agents, creating a safer and cleaner environment for all of the dogs
Highest level of sanitizing procedures possible, utilizing the best hospital-grade disinfectants
HDTV televisions tuned to either Animal Planet or DogTV
Carefully designed boarding layout — the entire facility is split into separate zones to reduce the number of guests occupying one area; this is a more expensive way to design a pet care facility, but it significantly reduces pets' stress levels while they are boarding
Premium dog shampoo — Les Pooch — used in our bathing salon
Fully computerized reservation system with daily backups to ensure complete accuracy
K9 Resorts offers the finest in overnight accommodations for your pet. Our caring staff and cage-free environment ensures your dog is comfortable, happy, and well cared for while he or she is staying with us. Depend on K9 Resorts when your schedule includes:
Business trips
Leisure travel
Short-term or extended vacations
Weekend getaways
Home remodeling and construction projects
Entertaining in your home
Regardless of your reason for boarding, K9 Resorts is the perfect place to leave your pet. It's no wonder so many veterinarians choose K9 Resorts to care for their own pets. When your dog cannot be at home, book him or her a vacation — at K9 Resorts.
our luxury dog boarding testimonials
Treat your pet to a resort-style getaway. Call (908) 490-0808 to schedule a tour and see why so many pet professionals trust K9 Resorts. Contact your nearest K9 Resorts to schedule a tour and see why so many pet professionals trust K9 Resorts.