Affordable Dog Boarding Pet Suites in Hamilton
Local Luxury Dog Boarding Services You Can Trust
You shouldn't have to worry about your furry family member's well-being while you're away. You want a dog boarding facility that will care for your pet like you would to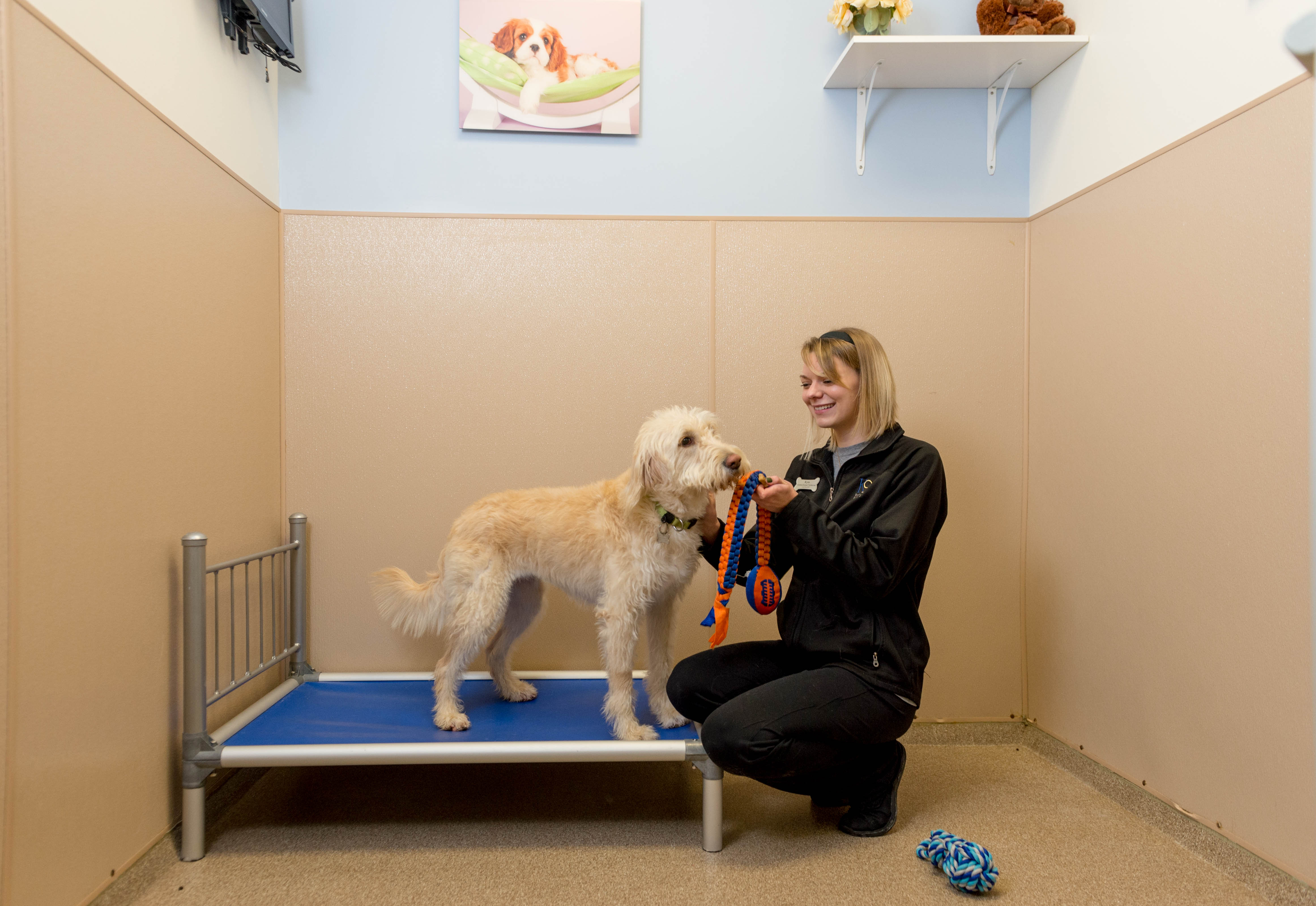 give you complete peace of mind. K9 Resorts Luxury Pet Hotel of Hamilton offers award-winning dog boarding and dog daycare program in Hamilton area.
Call us at (609) 546-4233 for more information about our overnight dog boarding services. Or contact our team online!
When you drop your pup off at K9 Resorts Hamilton, your pet will have a great time. We can assure you that your dog will be enjoying themselves while you're gone so you can enjoy your trip. Our pet hotel has spacious dog boarding suites designed to delight our canine guests. We offer affordable services backed by friendly, reliable, and expert team members.
What Is Dog Boarding?
We know you love your furry companion and want to be with them all the time. But there may come a time when you have to leave them at home. Whether you've planned a vacation or have an emergency, dog boarding is a great option. Dog boarding is perfect for when you need a place to watch over your pet and keep them safe while you're not there. Dog boarding can be a preferred alternative to asking a friend or family member to watch your pet. We can provide specific dog boarding amenities that others won't be able to.
Some of our dog boarding options include:
Traditional pet boarding
Executive rooms
Luxury dog boarding suites
No matter your preference, we're confident you and your pup will be happy with K9 Resorts Luxury Pet Hotel of Hamilton. Our dog hotel in Hamilton host to compassionate and knowledgeable staff members. The whole team is ready to make your pet feel at home. Our team ensures your dog will be healthy and relaxed when they stay in any of our dog boarding suites.
How Much Does Luxury Dog Boarding Cost?
Planning to travel to places that won't allow you to bring your pet? You should consider luxury pet boarding in Hamilton to keep your pup happy and safe. The term "luxury" usually evokes images of dollar signs because it sounds expensive. Many pet owners reluctant to do more research. But, we are here to assure you that our luxury dog boarding in Hamilton is as affordable as it is luxurious.
Our traditional, all-inclusive compartment option includes outdoor yards. Featuring artificial turf for your pup to stretch, play, or socialize with other dogs. And it starts at $48 a night. The traditional dog boarding compartments feature Snyder Enclosures with rubber "comfort mat" bedding. The more luxurious dog boarding options start at $63 a night. These pet hotel suites offer Kuranda dog bedding, a cage-free space, and Blue Buffalo meals. You also get your choice of all-day group play or individual playtime with our trained staff.
Regardless of the dog boarding option you choose, we make sure your pet is safe and happy. Receiving plenty of exercise, social interaction, and premium meals for their continued health.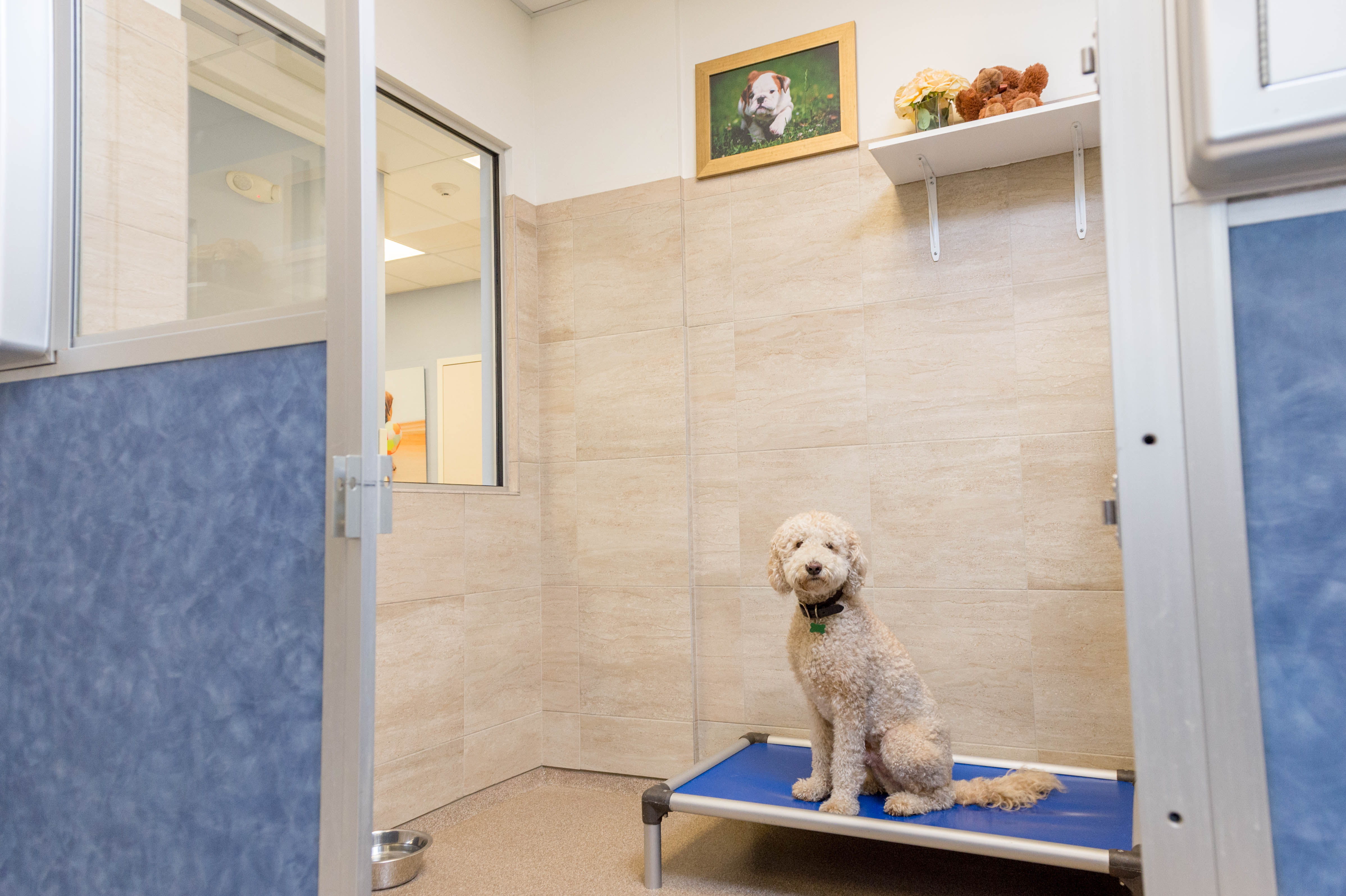 Why resort to hiring a pet sitter you found online or asking a friend to watch your pet. Let the trained and professional staff at K9 Resorts Pet Hotel of Hamilton be there to watch your pet when you can't. Our affordable pet boarding services ensure your dog gets the care they need while you're away. From socialization to the comfiest dog beds, our dog hotel in Hamilton comes with a host of benefits. And it will give you full peace of mind.
Some benefits of our dog boarding services include:
Social Time – Whether your dog likes playing in a group or prefers one-on-one human companionship. We can accommodate their needs while they are guests at our pet hotel. Our team will ensure your dog gets the social time they need to keep them stimulated.
Exercise – We have outdoor yards and spacious indoor play areas to keep your dog fit while you're away. Our dog boarding services are designed with your pet's health in mind.
Security – The safety and security of our dog boarding facility is always a priority. In fact, our state-of-the-art buildings are explicitly constructed to keep our staff and all of our canine guests safe when they stay with us.
Expert Care – Staffed with knowledgeable, caring, and experienced dog-lovers, your pup will get expert care from our trained and background-checked staff.
Our team will create the perfect resort package for your furry friend with our customizable dog boarding options and amenities. From ample outdoor and indoor playtime to belly rubs and a lot of hugs, you can rest easy knowing your pet is in compassionate, capable hands.
The K9 Resorts Pet Hotel Luxury Legacy
When you're researching Hamilton dog boarding services, look no further than our dedicated team of specialists. Our dog boarding and dog daycare services are trusted and recommended by veterinarians, groomers, and other local pet professionals who can vouch for us. Our locally owned and operated dog daycare and dog boarding services are here to help keep you stress-free during your next trip away from home.
The Hamilton community chooses our dog boarding services because:
We employ trained, certified, and loving staff.
We offer cage-free dog boarding options.
We have state-of-the-art dog boarding and dog daycare facilities featuring a fully computerized, accurate, and reliable reservation system.
We provide safe and secure luxury dog kennels.
We have a courtyard featuring revolutionary artificial turf.
With the finest dog daycare and overnight pet boarding accommodations for your pup, our friendly staff, open environments, and dedication to excellence ensure your pet is well cared for. When you can't take your pup with you on vacation, book them their own luxury stay at K9 Resorts Luxury Pet Hotel of Hamilton.
Give us a call today at (609) 546-4233 or contact us online to experience our modern facility and affordable dog boarding services in Hamilton.